History
SEAGULL started with a trip to England, to Joyce Collis from the Beagold kennels. Two Bearded Collie dog puppies came back to Holland with Ben, Bobob and Bebob.
Bobob was a gentleman in farmers clothes, always very carefull and precautious. The only attempt to a mating he made ended when the bitch showed him it was painful. He got off, apologized, and never looked at a bitch again in his life. He was named after the first beardy in Holland, his full name was 'Pendrew's Shepards Tartan'. He really wasn't happy going to dogshows, so his career ended very soon.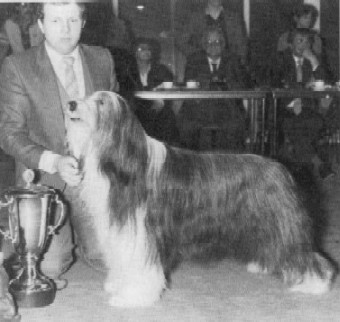 Bebob, he got his name just because it fits so well with Bobob, was the opposite of his pal. He was very turbulent and busy. Always there, and a real show guy. He knew he was beautiful. When he was at the show, he was named 'Beagold Bruin Scott' His greatest achievement was winning Top dog of the year all breeds in 1981. This real father dog started a dynasty of Champion children , made his name well known around the world, and in a lot of Bearded Collie books you will find his picture. We owe him a lot, he was a once in a lifetime opportunity. When he was fifteen years old, he decided this was it, and we had to say goodbye to our big example and dearest friend.
After a while, a beardy lady came along, Beagold Cresta Will. Lotje, a brown bitch who started the Seagull kennel with her offspring. In her first litter with Bebob was a boy "Seagull Crested Latish"who became Youthwinner, and the year after, Winner.
Her sister Fanny came with her, she was Beagold Cassie Won't on pedigree and is the foundation bitch of the Strike-a-light kennels in Holland , from Margreet Rood - Spaans. She's still in the pedigree of our Gimmick.
Billy was our next import dog and was known as "CH Beagold Billy Brown" and he was a Nordic champion. Together with Honey Bun, who had a good showcareer, they brought the foundation bitches of the Love Forever Beardies from Bram and Margie Kuijper, and the L'Osdor beardies of the Chaponets. They were Seagull Sweet Blue Barree and Seagull Secret Black Flirt. A picture of one of their daughters was used on the package of many Bayer products in France.
To be continued